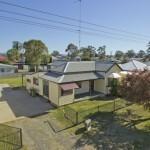 Secondary residences such as granny flats can now be constructed to 90 square metres, up from 75 square metres, following a recent change to the ACT planning laws.
Minister for the Environment and Sustainable Development Simon Corbell says the increase is to allow the residences to meet the adaptable housing standards, which may require a second bedroom.
"By allowing greater floor area in secondary residences, Canberra families can help their parents or students to live independently in a residence that's large enough to be comfortable yet small enough to be manageable," Corbell says.
"The additional size will also help builders meet the adaptable housing standards for a variety of dwelling layouts, including two-bedroom dwellings. This allows the secondary residence to meet the requirements of the current occupant as well as the needs of occupants in the future."
The amendment will also remove restrictions on who is permitted to occupy the granny flat with residents now not needing to be related to the occupants of the original house.
"This means anyone can occupy a secondary residence and provides for more affordable housing options," Corbell says.
About API
Original author: API