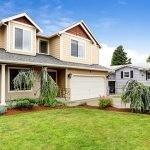 By Anna Warwick
With rents going down and rental vacancies increasing Australia-wide you can't afford to have a vacant property. These easy and effective updates will add to your rental revenue, while attracting a higher calibre of tenant.  Best of all, they can be done quickly and with minimal disruption to existing occupants.
1. Street smart
House proud tenants are the best kind, so lure them in with an attractive street front. If your property needs a facelift, start with a lick of paint, at least in highly visible outside areas. A great front door or a simple verandah will add more value than they cost. Even cosmetic touches like a pretty number or a nifty letterbox will do wonders for a property's street appeal.
2. Invest in sunshine
Go one step further and become a solar energy provider. Install solar panels and charge your tenants for the power, using the innovative new monitoring and billing service from Matter. For instance, a typical 6kW system in Brisbane can earn a landlord an extra $1,500 per year and generate over $35,000 during its lifetime. Offering your tenant a saving of 20% on power bills as well as access to clean energy will put you right out in front as a practical and exciting rental opportunity.
3. Roofing rules
A worn roof speaks to how much TLC a property receives, even if you've done a spanking new internal reno. Watch for eyesores like scum build-up, damaged tiles or guttering, and rusted corrugated iron sheets. If you don't have strata looking after the roof, keep an eye on it yourself and invest in a professional clean and mending to attract top-notch tenants.
4. Let there be light
Another way to capture sunlight and cut energy costs, a skylight adds refreshing natural light and ventilation. A skylight can be the difference between dingy and depressing, and fresh and welcoming, attracting a different breed of tenant. Plus your tenant won't need to keep the lights on all day.
5. Cool breeze & toasty heat
A reverse cycle air conditioner will bring your property into the 21st century in terms of comfort levels for your tenant. The installation of a split-system air-conditioner in a Brisbane townhouse can increase the weekly rent by $10 – $15. The unit will cost between $500 and $800 and installation can cost about another $1000. If you have the property running on solar power during the day with Matter, your tenants won't have to worry about spiking energy bills.
6. Green spaces
A lovely neat garden, a lawn, or potted plants on the deck or balcony adds aesthetic value and atmosphere. However, busy young professional tenants will prefer something low maintenance, or to do no work at all. For a set monthly fee you could offer a landscaping service, and tend to the garden yourself.
Note: Before implementing any physical improvements to a property check whether you'll need council approval.
About API
Founded in 1997, API is Australia's highest-selling property magazine.
Fatal error: Call to undefined function article_series() in /home/apimagaz/public_html/wp-content/themes/jarida-child-theme/single.php on line 166