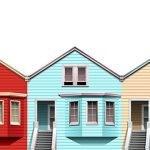 The New South Wales state Minister for Finance, Services and Property Dominic Perrottet has proposed to replace the transaction tax of stamp duty with a broad based land tax, which the Urban Taskforce says could help housing affordability.
"The Urban Taskforce has previously advocated for the replacement of stamp duty with a land tax and it's good to see the NSW Finance Minister raising the potential for this to occur," Urban Taskforce CEO Chris Johnson says.
"Adding around $40,000 to the cost of buying a home discourages sales and increases the cost of housing.
"Clearly state governments have come to rely on stamp duty income, with NSW expecting $8.7 billion this year. The stamp duty will provide more funds in boom times and this will diminish as the market slows down.
"A land tax, however, will give consistent income that grows with the value of land."
Land tax, particularly if it's distributed across all land, can be a good way for governments to capture value from the uplift in land value through the impact of new infrastructure, such as a metro rail line.
"Stamp duty is also contributing to an even bigger issue by discouraging owners of large homes to downsize to a smaller home," Johnson says.
"NSW Planning Minister Rob Stokes has raised the issue of the large number of unused bedrooms in large houses occupied by one or two older people. The removal of stamp duty would be an incentive for these people to downsize, leaving the larger home for a family."
With housing affordability across Sydney constantly in the headlines, the Urban Taskforce has recently proposed an approach that could yield 4000 new affordable rental homes a year by modifying the NSW Affordable Rental Housing SEPP.
"We also support a speeding up of the planning system to boost supply and the removal of stamp duty," Johnson says.
"These three measures, using the Affordable Rental Housing SEPP, speeding up the planning system and replacing stamp duty would go a long way to helping with housing affordability in Sydney.
"Recent demographic data from the NSW Department of Planning has shown that the population is increasing faster than expected. This means Sydney must average 37,000 new homes a year but in the current boom times this should be around 40,000 homes.
"Last financial year only 30,000 homes were built, which is 10,000 below what's needed."
It's believed the Urban Taskforce proposal to allow housing projects to add 20 per cent more area for affordable homes would also boost supply in Sydney by around 4000 a year.
"The Urban Taskforce is keen to work with all levels of government to find ways to help with housing affordability," Johnson adds.
"As the major providers of new housing stock, it's the developers who must be incentivised to provide the thousands of affordable homes Sydney desperately needs."
About API
Founded in 1997, API is Australia's highest-selling property magazine.
Original author: API