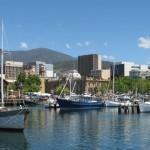 By KIERAN CLAIR
Understanding how capital growth moves through the Darwin and Hobart markets lets buyers stay a step ahead of the gain wave.
We're used to talking about capital-growth waves running through big city markets, but steady increases in property values occur in our less populated centres, too. While these capitals aren't on most investment radars, it doesn't mean buyers will stop buying. Real estate is acquired for a myriad reasons, so if you're looking to own a small piece of one of our nation's less prominent capital cities, watching the growth wave can yield attractive gains. You just need to understand how the numbers run.
Darwin
Will Johnson, a director at Herron Todd White Darwin, says his city is a little different when tracking capital gains.
"Here, we're fairly constrained. Ours tracks more so in a mortgage belt position where the northern suburbs go up and then Palmerston tends to follow. Then, once it comes back, Palmerston goes first and then the northern suburbs tend to follow after that."
This swinging growth and retraction along the north-to-southwest track has been entrenched, according to Johnson, although the satellite centre of Palmerston is gradually coming into its own and will begin shifting independently of its capital at some stage.
In comparison, the Darwin CBD moves to the beat of its own drum due to apartment numbers.
"For residential, there's really not a lot of housing in and around the city, so housing in the near CBD just sort of tracks its own movement because it's so tightly held and there's so little of it."
Johnson says Darwin had a hot run driven by the resources industry in the past few years, but that's been retracting during 2015 and prices are now nearing the bottom of the fall.
"We've got a bit more of an equilibrium on where rents are at and where prices are at and everyone's pulled their head out of the sand and realised that the market has come back, but it's probably going to stay pretty firm for a little bit now."
When trying to track where the capital-growth wave currently sits, he says the current fall has been consistent across the board, but in line with earlier comments, the northern suburbs will begin moving up first – places like Fannie Bay, Nightcliff, Rapid Creek and Stuart Park.
"The land is pretty constrained so there's not going to be mass waves of subdivisions coming on there – it's pretty tightly held in terms of future supply. So, if you were to go anywhere they're probably your safest bet.
"Then probably some of your entry-level stuff, which is a little bit further around on the eastern and northeastern side of the airport, where you've got Karama and Malak."
As for his current Darwin property outlook, Johnson sees the retracting market as firming a little with good long-term potential, assuming industries (and therefore jobs) keep coming to town.
"We've still got a few years to go of this construction phase at Inpex and we're getting a lot more Defence forces here in terms of the marines and we expect that we'll get a few bigger projects, which the Northern Territory Government will get right behind, and which are confidence boosting – but overall it's probably going to be a pretty stable 12 to 24 months here I'd say now."
Hobart
As one of this country's most picturesque capitals, Hobart deserves attention. It has, unfortunately, been languishing for some years while investors have been rushing to our eastern metropolises.
Andrew Peck, a director at Heron Todd White Hobart, says despite its relatively small size, the capital gain wave generally follows the standard model in Hobart.
"Typically this is the case, however growth to the Kingston region south of the CBD over the previous 15 years has created a smaller regional pond."
Peck says he would expect the growth wave plan to continue for Hobart, although transport restraints in Kingston might upset the flow, limiting its capacity to grow in the short- to medium-term. He also believes when talking about the city's current property cycle, the region should be described as bands around the CBD.
"The 'inner pond' is experiencing growth, the 'middle pond' is in stagnation or entering an early recovery phase, while the 'outer pond' continues to stagnate."
Peck says this means areas such as the CBD, South Hobart, North Hobart, West Hobart, Newtown, Battery Point and Sandy Bay have been the standout performers for capital gains in recent memory. The eastern shore suburbs such as Bellerive and Lindisfarne also deserve a mention.
"The wave is starting to move but given prevailing economic conditions it's maybe more of a ripple than tsunami."
Still, move it will and if you want to stay ahead of the crest, Peck says look to middle-ring addresses such as Claremont, Rokeby, Austins Ferry and Berriedale.
As to overall market performance in Hobart, Peck sees it as more tortoise than hare.
"Slow and steady growth is likely with perhaps an upswing in sub-$500,000 investor holdings."
Small capital cities aren't the flavour of the month but that doesn't mean buyers can't benefit. Watching where the gains are due to move next means you can stay ahead of the small city pack.
About Kieran Clair
Original author: Kieran Clair
PRINT