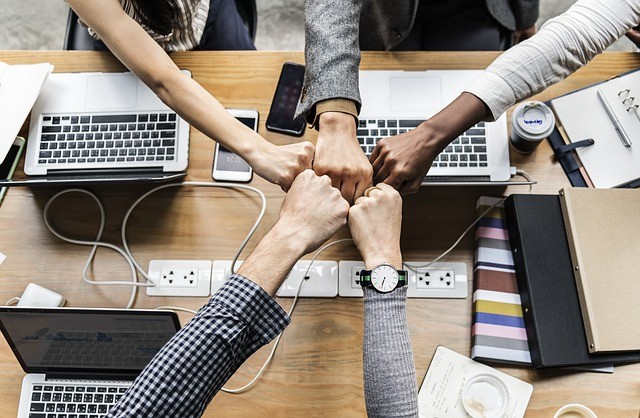 WHAT IS A POWER TEAM?
The term 'Power Team' has been around for a long time and is basically defined as "a group of professionals who work in non-competing, related fields, who have good working relationships and/ or can refer customers to each other". Many people already have power teams but use different terminology to describe it.
WHO CAN CREATE POWER TEAMS?
Power teams can be work related or personal. For example:
​A real estate agent might create one or more power teams made up of several professional service providers who form part of the property sale transaction process i.e. a solicitor, conveyancer, settlement agent and surveyor.

A property Manager might have a number of maintenance power teams consisting of gardeners, tradies and cleaners.

A property developer's power teams could be a mix of local (builders, carpenters, plumbers and electricians) and global (legal, architects and so on who can work from anywhere).

A home owner may have a power team for their home renovation project (a team of builders) or for ongoing maintenance i.e. electricians and plumbers.

There is no 'one size fits all' power team they are unique to the person or company that creates them.
WHAT ARE THE BENEFITS OF HAVING POWER TEAMS?
The main benefit is efficiency: knowing who to contact when you need a particular service (or group of related services) takes the hassle and stress out of any situation. For a builder, its about knowing he has a group of reliable tradies he can call on whenever a project needs their skills is invaluable.
In real estate power teams can offer major benefits - not just to agents and service providers, but to buyers and sellers. For example, if agents/service providers offered (as an option) a ready-to-go Property Sale Transaction Power Team (made up of all providers required to process the sale) it would relieve a lot of the pressure for clients.
There are already many companies operating in this and similar ways with some providing a full end-to-end service using their own in house team consisting of all the services needed to process a transaction. Others provide a simple referral service.
Clients normally select their own team (agent, conveyancer, solicitor, settlement agent etc.). This works in the majority of cases but for some it can be extremely stressful: most people move just a couple of times in their lives and have limited experience dealing with solicitors etc. They have no idea who is good or bad. If they don't choose well, the process can be let down by the weakest link causing a bad experience overall – or worst case scenario the sale falling through.
CREATING YOUR FIRST POWER TEAM IN LINKTOSALE
In Linktosale Collaborate you can create multiple power teams via Contacts. You can group contacts however you like. To see how easy it is to create and manage Power Teams or Contact Lists in Linktosale, play the following slideshow: