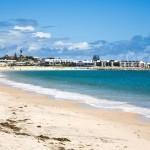 By WARWICK HEMSLEY
The city of Bunbury is often touted as the capital of the southwest region of Western Australia and acts as a gateway to the popular tourist region. Over the years, successive governments, researchers and planners alike have pinpointed Bunbury as a major regional centre with the potential for growth into an even more significant economic hub for the state in the future.
So, is Bunbury really ready to take the mantle as WA's second major city?
There's no doubt Bunbury has potential. It's located just 175 kilometres from Perth and is about to undergo a major port expansion that will increase its export capacity significantly.
The economy in the southwest region continues to grow, having experienced a 49.6 per cent growth in GRP in the last five years.
The Greater Bunbury Region, which includes the city itself as well as outer lying growth areas such as Dalyellup, Australind and Gelorup, is one of the fastest growing areas in WA and currently home to more than 67,000 people.
There has been significant development over the past decade in and around these areas, with numerous residential and commercial developments providing increased services and amenities to locals and visitors.
The city has undergone something of a transition in recent years as new development works to better utilise the coastal beauty that sits right on the doorstep. The redevelopment of the Bunbury Waterfront, including improved commercial and retail precincts as well as diverse housing options, has provided Bunbury with a much more accessible public waterfront and offers further development opportunities over the coming years.
The state government is lending its support to Bunbury's growth via plans to relocate at least one government department headquarters to the city by 2018. Plans for the Department of Parks and Wildlife (DPAW) headquarters to be built on Koombana Drive were released earlier this year, with Colin Barnett stating that "Bunbury logically sits as the second city of government administration in WA".
In terms of the property market, the greater Bunbury region offers relatively affordable housing compared with the Perth metro area. According to Real Estate Institute of Western Australia (REIWA) statistics, prices have remained stable over the last five years and have recorded 5 per cent growth in the last 10 years. The median house price in Greater Bunbury is approximately $385,000.
New developments in outer suburbs such as Dalyellup, Pelican Point and Millbridge have housed a large proportion of the population growth and boosted housing supply. The waterfront development and more established areas such as Marlston Hill also offer medium- and high-density living options that are improving the diversity of housing choices available for different demographics.
Looking at future potential in the property market, a particular area for growth is in retirement housing and aged care facilities. Like most places in Australia, the southwest has an ageing population seeking housing types that suit their changing needs. This may include smaller, easy-care homes with good access to public transport and other relevant services in the city, as well as retirement villages and higher care facilities.
Overall, it's promising to see the level of development activity occurring in the Bunbury region, despite the current economic climate. The continued growth in population alongside further commercial and residential development is likely to have a positive impact on property prices in the coming years.
About Warwick Hemsley
Chairman of QWest Paterson Valuers, Warwick Hemsley is a graduate of both UWA and Curtin University (formerly WAIT) and is also a licensed valuer and Fellow of the Australian Property Institute.
Fatal error: Call to undefined function article_series() in /home/apimagaz/public_html/wp-content/themes/jarida-child-theme/single.php on line 166
Original author: Warwick Hemsley