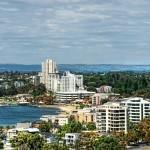 The Real Estate Institute of Western Australia (REIWA) has called on the state government to encourage buyer activity in the local property market over the next financial year.
REIWA's recommendations for the state budget include:
No increase to transfer duty or thresholds. Maintain the existing transfer duty exemption for first homebuyers at $430,000. Rebates on transfer duty for seniors to encourage appropriate downsizing. Transfer duty relief for off-the-plan developments and house and land projects. No changes to rates or thresholds for land tax. Remove land tax aggregation rules. State tax review.
In its submission to the annual budget process, REIWA warned the Treasurer against increasing the costs involved with buying property.
REIWA president Hayden Groves says the property market has always been an easy target for tax revenues, particularly as the government tries to improve its budget position.
"The property market provides a regular, albeit fickle, source of income for the state through property taxes but that's by no means a reason to further increase the costs involved in buying property to make up any shortfall," Groves says.
Groves believes increasing the costs will prevent first homebuyers from entering the market.
"Keeping first homebuyers active is crucial to bolstering the broader market and something the government should prioritise when setting policy for the coming year.
"With the First Home Owner Grant already abolished on established homes, it's important that the existing transfer duty exemption for first homebuyers remains to encourage this sector of the market."
REIWA's submission also recommends the government introduce rebates on transfer duty for seniors to encourage downsizing activity, ensuring appropriate housing diversity and choice.
"By making it more appealing to downsize, the market would be in a better position in terms of offering the right mix of housing options to meet the changing needs of the community," Groves says.
About API
Founded in 1997, API is Australia's highest-selling property magazine.
Original author: API